We take pride in our lake. It is as close to untouched as possible so that when people come to visit us, they are able to see a variety of wildlife that others may never get to see. We prefer that when guests show up, they leave their motor boats at home. We enjoy the quiet tranquility offered by kayaks and most of our guests say that kayak fishing on our lake is an experience worth having.
Why Go Kayak Fishing?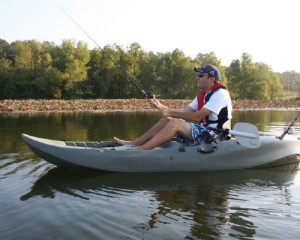 There are many reasons that people enjoy kayak fishing. One of the biggest advantages is that kayaks are very quiet and that they can get into areas that no other boat can go. This means that you can get your kayak up closer to the banks and you will not scare away the fish who may be feeding there. It also allows you to cast out toward deeper water and then reel into the shore, much the same as a small bait fish may travel.
Another reason for it though is that kayak fishing is simply more fun than other boats. You can view nature as you have never seen it before because you do not scare any of the wildlife around our lake away. This means you have plenty of photo opportunities when the fish are not biting. However, when the fish are biting, you may be reeling in only a small fish, but the boat itself will make it feel as though you are reeling in a massive trout or the largest bass ever caught on a hook. This is because when the fish takes hold and runs with it, your boat will rock and roll along with him.
Which Kayak Is Best for the Lake?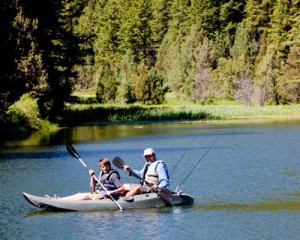 When it comes to kayak fishing on our lake, we enjoy seeing people out on a tandem fishing kayak, because it means that they are enjoying time with a partner. We feel that to totally enjoy all that fishing in a kayak has to offer, you should truly have a friend along with you. It ensures neither of you get worn out from paddling and you both can watch out for one another when it comes time to reel in the big ones. We also feel that inflatable kayaks are best. They are easily storable when not in use and they are lighter to carry down to the lake than standard kayaks. After reading through numerous inflatable kayak reviews, we have settled on what we thought was the best. They are puncture resistant and virtually indestructible as long as you do not over inflate them. They are also more comfortable than regular kayaks, according to many who own their own.
If you do own your own inflatable kayak, you can bring it with you rather than using one of ours. The only important thing as far as we are concerned, is that when you go kayak fishing on our lake, you have a great time. Are you ready to join us for an unforgettable fishing adventure?